I've recently been doing a bit of content creation and Twitch streaming, and I wanted to share my journey and links!
Content Creation and Twitch Streaming – Introduction
First of all, between taking a short break from my blog + COVID 19, I picked up a side hobby of (more) content creation.
I started out making YouTube videos for a mobile game that I've been playing for a few years. In addition to that, I'll slowly be adding other games (mostly mobile for now) to the channel.
There is also a twice weekly Twitch stream, which is about all I can manage for now with my schedule and interest level.
I still plan to keep up with weekly posts on this blog, but I'd definitely love a way to monetize all of this.
YouTube Channel(s)
First, you can find my primary YouTube channel here – https://www.youtube.com/IdleDoyler.
This is a channel dedicated primarily to Idle Heroes, but I'd like to continue adding other games to increase my audience.
As you can see, I've been growing the channel at a decent pace so far.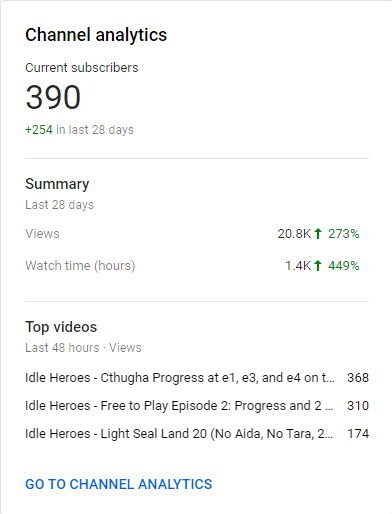 This is my first real YouTube channel, so I'm always looking for feedback both inside of, as well as outside of, gaming communities.
In addition to my gaming YouTube channel, I still have my InfoSec related channel.
I've only used this channel for short videos related to blog posts so far, but I'd love to add some more (income generating) content one day.
Content Creation – Twitch Streaming
Beyond the YouTube channel(s), I've also been back streaming on Twitch.
You can find my channel here – https://www.twitch.tv/IdleDoyler.
Like I said, I'm currently at 2 days per week, and you can find my schedule below.
Tuesday nights @ 7:30pm = Idle Heroes
Thursday nights @ 7p = Hacking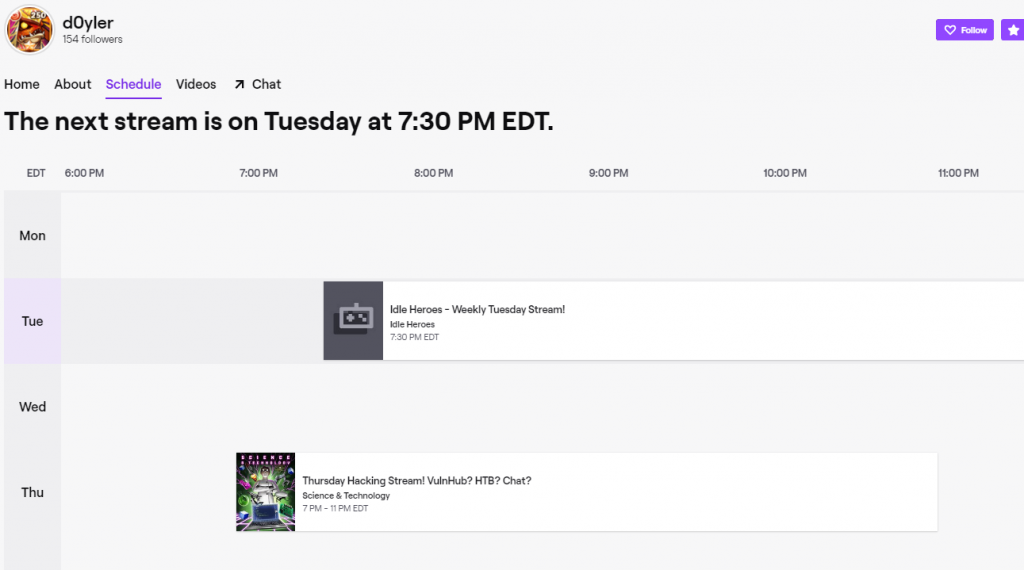 As of right now, I'm using the following gear, and it's probably configured wrong somehow.
I'm running this all through Streamlabs OBS, which hasn't been too hard to use so far.
Other than that, I'd like to give a special shout-out to mehhsecurity and TheBlindHacker for supporting the stream and encouraging me to just jump in with both feet!
Content Creation and Twitch Streaming – Conclusion
I know that all of this isn't quite hacking related, but it is definitely a new hobby that I'm enjoying.
I'd LOVE to hear feedback on how to monetize some/all of this (including my blog) or to monetize it better.
Other than that, if you have any feedback on my stream, channel, images, thumbnails, or anything, then hit me up.