With today being my two-year blogiversary, I thought it would be a good time for another update post!
While my first post was all the way back in May of 2013, I only actually started posting every week back on April 11, 2015 with my eCPPT Review.
This post marks my 104th weekly post, so exactly two years since I started.
First, I had a lot more views (21,518) and visitors (12,805) than in 2015.


That said, this blog is a lot more to me than just sharing content and getting views. It is a way to force myself to learn, and then share that knowledge with as much of the community as possible.
I definitely like to think that I accomplished this in the last year.
I managed to have a few vulnerability disclosures:
There was also a lot of new hardware/toys:
Not to mention, my fairly large tool release:
Kioptrix Level 1 led the year again in views for a specific post, but some of my newer posts (including cert reviews) climbed their way up the ranks.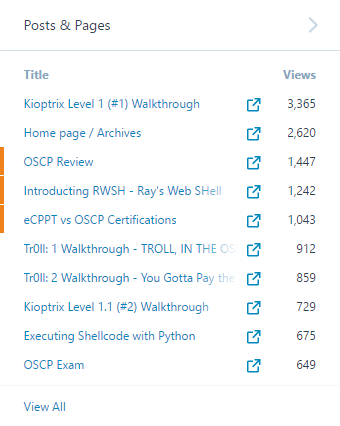 Most of my clicks still came from Google searches, but a few came from Reddit and Twitter self-promoting.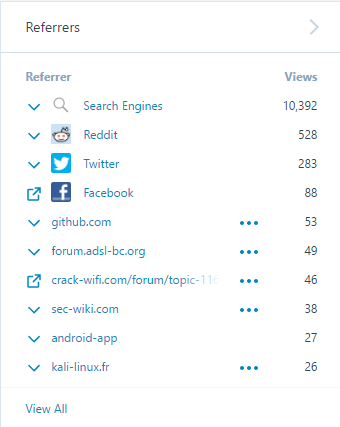 Paul's blog on fixing OpenFuck is still the page that gets the most clicks from my site, but I'm glad to see some other stuff up there as well.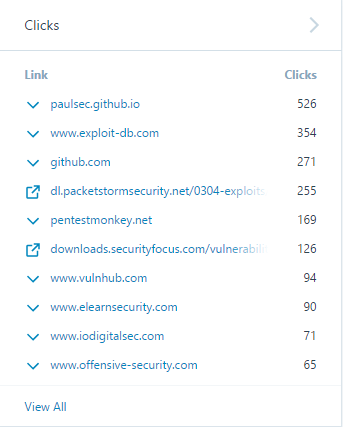 My most views in one day took a huge leap, from 66 to 352.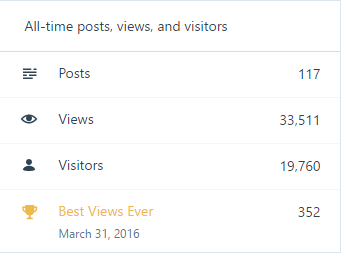 This was mostly because this was the day that I released RWSH and posted about it on a few security sub-Reddits.

That said, like I said last year, self-promotion would be the best way to get visitors to my blog.
I definitely saw a lot more views overall this year, and even a little more in 2017.


While this was technically only my 2nd Blogiversary, I'm hoping to have many more, with tons of information to share.
If you'd like to compare to my stats from last year, you can at this post.